Beauty is, of course, an eternally subjective concept. But there is an enduring archetype of fairytale beauty — like something out of the Brothers Grimm or Hans Christian Andersen. And sometimes, the glamour of the quintessential fairytale princess equates to the glamour of real-life royalty.
The Real Reason Prince Edward Is Concerned About Kate Middleton
In this day and age, people like Meghan Markle and Kate Middleton are certainly perpetuating the elegant sophistication that figures like the late Princess Diana brought to British royalty. But the world has always had its share of princesses and queens who were so stunning they could have (and, indeed, sometimes did) come straight out of a Hollywood (or Disney) film.
Some of these women are well known and others have been largely lost to the obscurity of pop culture, if not history. But all of these women are definitely as dazzling as anything out of a storybook, in their own ways.
Princess Fawzia of Egypt

Described by The New York Times Magazine as "a more luscious version of Hedy Lamarr, a softer Vivien Leigh," Princess Fawzia of Egypt was breathtaking. The daughter of King Fuad I, son of Ismail the Magnificent, and Queen Nazli Sabri, the princess grew up in opulence and luxury. 
In 1939, through an arranged marriage at age 17, Fawzia wed Mohammed Reza, the crown prince of Iran. The couple had a daughter, Princess Shahnaz. But the marriage was not a happy one for Fawzia. In 1942, the princess (who later became empress of Iran after her husband became shah) was photographed for Life magazine by Cecil Beaton, who remarked upon the contrast between her perfect and sculpted features and her "sad and mournful eyes."
Eventually, Fawzia divorced the shah, remarried, got happier, and had two other children. She died at the impressive age of 91 in 2013.
Grace Kelly of Monaco

Grace Kelly, arguably the most famous movie-star-turned-princess who ever lived, started out as an actress whose talent was commensurate with her beauty. She gave stunning performances in 1953's "Mogambo" and 1954's "The Country Girl," and was mesmerizing in the three films she did with Alfred Hitchcock.
Despite the promise of her career, Kelly chose to "retire" from acting when she met Prince Rainier III of Monaco in 1955. In 1956, the two wed. Though Hitchcock subsequently approached Kelly and asked her to play the lead role in "Marnie" (which ended up going to Tippi Hedren), Kelly declined, citing her royal duties. Apparently because of royal propriety, her films were banned in Monaco, and some say that she went on to regret giving up her career. Kelly tragically died in a car accident at the age of 52, but the legacy of her glamour and intelligence lives on.
Rita Hayworth

Grace Kelly's royal associations may be widely known, but not as many people know that one of her contemporaries, the equally famous Rita Hayworth, was also a princess (at least for a while).
As Grace Kelly had before her, Hayworth left her film career (and her contract with Columbia Pictures) to marry Prince Ali Salman Aga Khan of Pakistan. The two were wed in 1947 in Cannes, France. They had a daughter, Princess Yasmin Aga Khan, but the marriage did not go well. In 1951, amid rumors of her husband's infidelity, Hayworth filed for divorce. Her request was finally granted in 1953.
Hayworth died of Alzheimer's in 1987, and her final years were largely unhappy. But the world will always have "Gilda" and the legacy of her pin-up queen glamour. She was Hollywood royalty, and that's really all that counts in the end, as far as enduring legacies go.
Princess Marie of Romania

Princess Marie of Edinburgh was born to Russian Grand Duchess Maria Alexandrovna and Prince Alfred Duke of Edinburgh in 1875. Nicknamed "Missy," the princess possessed an "Alice in Wonderland" like beauty in her youth. She was known for her "sparkling blue eyes and silky fair hair, framing delicate features," as Julia P. Gilardi put it in her book "Born to Rule." Said to have been courted by Winston Churchill, Marie eventually wed Prince Ferdinand, Crown Prince of Romania.  
In addition to giving birth to six children, Marie worked as a nurse during World War II. According to an account in the National Business Times, she eventually settled by the Black Sea, dying of cirrhosis in 1938. Poetically, her heart was removed from her body and buried with her husband, but later exhumed and moved to several places throughout the Carpathian mountains, including the famous Bran (Dracula's) castle in Transylvania.
Princess Gayatri Devi

The daughter of Princess Indira Raje of Baroda and Prince Jitendra Narayan of the Koch Dynasty of Ancient Assam, Princess Gayatri Devi was raised in opulence. With her riveting dark eyes, flowing dark hair, (sometimes) ruby lips, and elegant features, she was admired the world over for her beauty and fashion sense. 
She wed Major General HH Maharaja Sawai Shri Sir Man Singh II in 1940; she was his third wife, and eventually became his widow. Known for her kindness and philanthropy, she was once voted the fourth most beautiful woman of the 20th century, and American Vogue (via The Independent) called her one of the most beautiful women in the world. She had an action-packed life that was sometimes fraught with tragedy, but in an interview with the Times of India shortly before her death at age 90, she stated that she had lived a happy life and had no regrets.
Isabella of Portugal
The daughter of Maria of Aragon and Manuel I of Portugal, Isabella of Portugal, born in 1503, had a happy childhood and grew up to be a beautiful girl, celebrated for her learned intelligence. In 1526, she wed Holy Roman Emperor Charles V, thereby becoming Queen of Spain. 
As author and British historian Henry Kamen explained it, though the marriage had initially been motivated by political factors, the two quickly fell in deep and abiding love. Their union, interrupted as it was by Charles' frequent travels, was a happy one, until Isabella tragically died of complications surrounding one of her pregnancies.
By all accounts, Charles V was completely devastated; he is said to have dressed in black for the rest of his days, and he never remarried. Isabella's beauty was later captured by the great painter Titian, after the grief-stricken Charles commissioned him to paint a portrait of his wife.
Princess Ameerah Al-Taweel of Saudi Arabia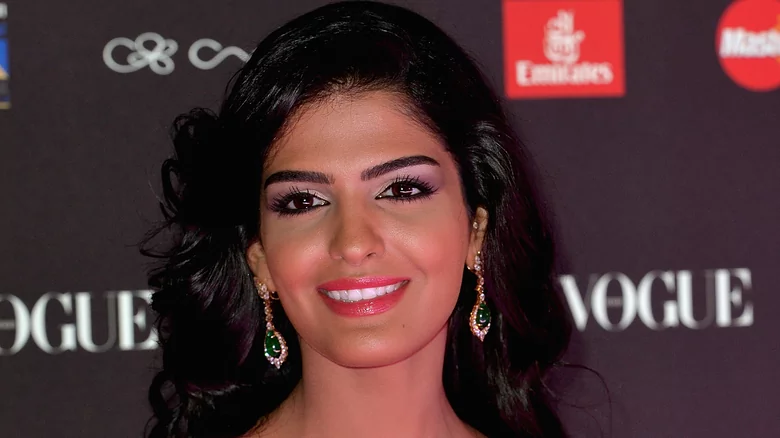 Born in November of 1983, Ameerah Al-Taweel of Saudi Arabia is one of today's most beautiful princesses. Al-Taweel met Prince Alwaleed Bin Talal while she was still a student; she had the good fortune to land an interview with him for her school paper. Romance blossomed between the two, despite their substantial age difference, and she became royalty by marriage, after marrying her prince at age 18. They amicably divorced in 2013. Al-Taweel would later marry Khalifa Bin Butti Al Muhairi, a billionaire, in 2018, as noted by Insider.
In addition to being admired for her philanthropy, Al-Taweel is an advocate for women's rights, especially in her native country of Saudi Arabia. Though she's dedicated to educating the public about misconceptions surrounding Islam, she also claims to be a proponent of freedom of speech. During a 2012 interview with the Wall Street Journal, she spoke at length about her activism and projects. In 2012, she also shared a video that radical Islam considered to be "controversial," via her Twitter account.
Queen Rania of Jordan

Born on August 31, 1970, Rania Al-Yassin became queen consort of Jordan after she married Prince Abdullah, who later became king. Queen Rania is as celebrated for her philanthropy, business sense, and widespread use of social media as she is for her looks. According to Business Insider, she once held high-powered positions at companies like Citibank and Apple, and has over 6 million Instagram followers.
In 2016, she gave an interview to CNN, in which she discussed subjects like unemployment and poverty, education, the Syrian refugee crisis (particularly as it relates to children) and religious extremism. "Extremists historically always rely on the complacency of moderates," she pointed out. "They think that we're not going to do anything. They mobilize, and we don't."
Moreover, the queen uses her official website largely to promote various humanitarian causes. All of which makes her the perfect combination of beauty and brains.
Cleopatra of Egypt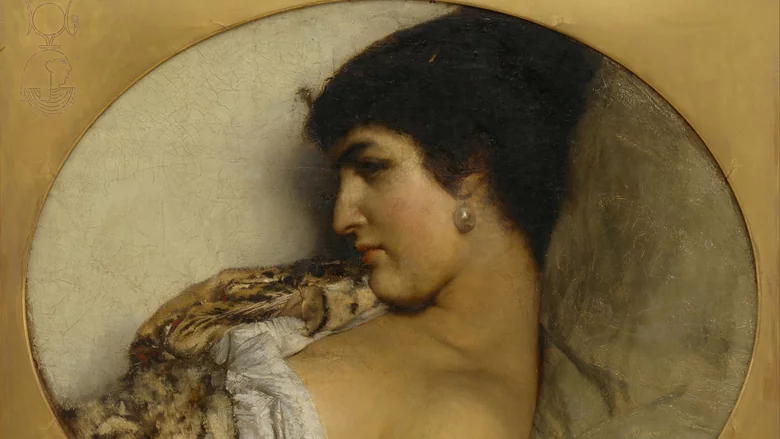 When we think of beautiful queens, Cleopatra immediately comes to mind. Even if you don't consider yourself a history buff, you likely know that Cleopatra was known for her beauty, and once you look into the background of the Ancient Egyptian queen, it's pretty easy to understand why. As noted by Ancient World Magazine, Cleopatra is considered one of the most beautiful women in history, and the power of her physical attraction was not to be underestimated. 
It was reported that the queen clearly knew how to utilize her beauty in order to influence political decisions, with Ancient World Magazine noting that she used her prominent features to "[seduce] Julius Caesar and Mark Antony — and thus changed the course of world history." Of all her striking features, Cleopatra's nose was the most pronounced — it was reportedly one of her strongest tools, with French philosopher Blaise Pascal writing, "The nose of Cleopatra: if it had been … shorter, the whole face of the earth would have changed."
So you heard it hear, ladies: If you have a prominent nose, use it to seduce men and take over the world, just like our girl Cleopatra.
Nefertiti

Queen Nefertiti may be second only to Cleopatra, as far as the beauty of ancient queens goes. And she might even be first, at that. The wife of Pharaoh Akhenaten, she reigned during the 14th century B.C., and was known for her love of art. She and her husband had six daughters and may have had a son. The royal couple also worshiped Aten, the sun god, and established a dignified (i.e. non-Manson-like) cult around him. 
Most accounts maintain that Nefertiti was as powerful as her husband, and some historians even believe that she may have dressed herself as a man. Her name literally translates to "a beautiful woman has come," and the bust of her that was found in 1913 indeed seems to confirm her comeliness. Said artifact portrays her as being tall and angular, with sculpted cheekbones, a Mona Lisa-like smile, and a placid expression of wisdom. 
Diana, Princess of Wales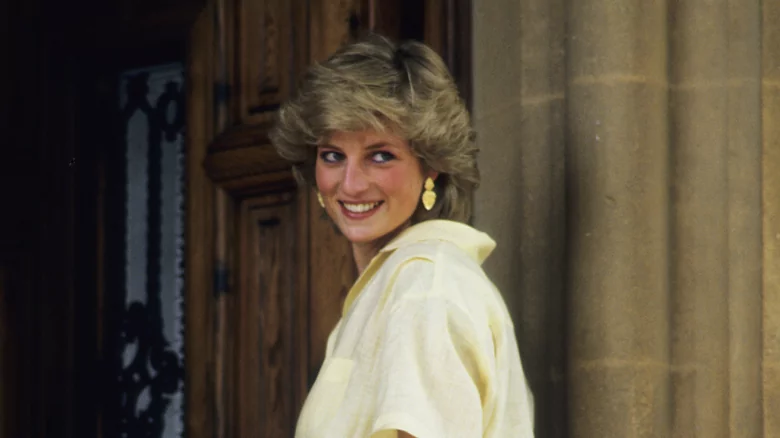 Diana Spencer, Princess of Wales, was without a doubt one of the most gorgeous royal women in history. While she was nicknamed "Shy Di" when she first came onto the scene, the princess soon enough embraced her life in the spotlight and used her beauty to her own advantage. Makeup artist and friend Mary Greenwell spoke to Vogue about the late princess' personal beauty and style and what she did that made her so effortlessly stand out. "She wore makeup extremely well," Greenwell said, who has since worked with Diana's daughter-in-law Meghan Markle. "I loved enhancing her beauty." 
But was Princess Diana herself interested in beauty? After all, she was so effortlessly and naturally stunning that it would be easy to understand if she shrugged at the idea of putting a lot of energy into her look. But according to Greenwell, Diana was more than interested in the process. "She loved it. She was very holistic. She took care of herself extremely well," Greenwell said. "She was self-aware, not in a vain way, but by looking after herself and the people around her." She forever will be missed.
Princess Madeleine of Sweden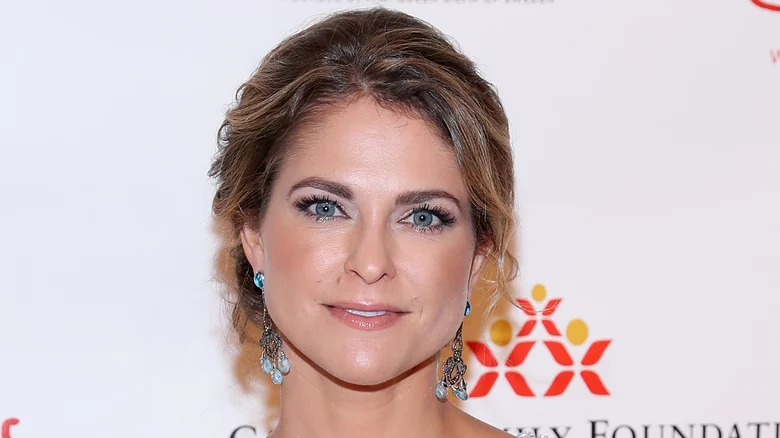 Princess Madeleine's eyebrows alone make us 110% jealous. Just look at them — they're perfect. But there are a number of other reasons why Princess Madeleine of Sweden has made it onto this list. Not only is she stunning, but she carries herself in an absolutely gorgeous, confident manner. As noted by Town & Country, the Swedish royal family has been known for pulling off some pretty iconic beauty and fashion moments, and Princess Madeleine has been right there with the rest of her family. She is "not afraid of bold colors and sees few occasions as unfit for a tiara or elaborate headpiece," which honestly, sounds like the best way to live. 
Some of the princess' standout moments have been at the World Childhood Foundation Gala in 2019, when she wore an absolutely gorgeous silver gown, and at the Nobel Prize awarding ceremony in 2016, when she was spotted in a luscious pink gown and a massive tiara. Princess Madeleine is known for many things — like her philanthropy and her charity work — but she is also known for her beauty and grace.
Queen Letizia of Spain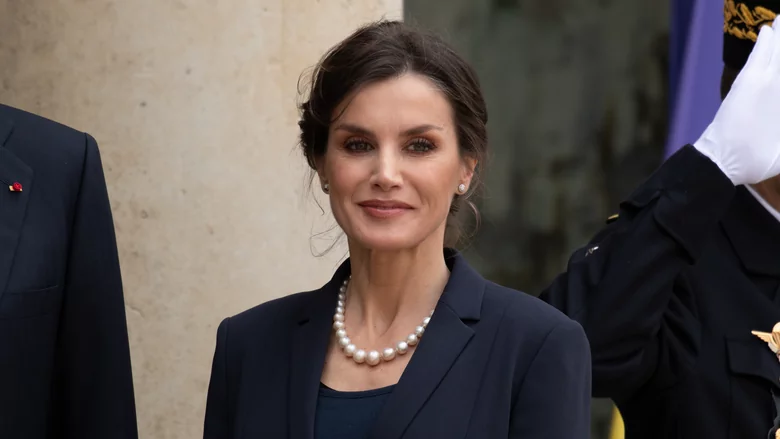 Queen Letizia of Spain easily made it onto the list of the most gorgeous rulers and princesses in history because look at her — she's effortlessly beautiful. The queen is not only known for her timeless beauty, but her fashion sense is off the charts. 
As noted by Town & Country, some of her favorite brands appear to be Massimo Dutti and Zara (yes, that Zara, so count us in for your next shopping trip, Your Majesty). There, of course, have been a couple stand-out looks of Queen Letizia's that we have to note because if anyone knows how to dress to impress, it's her. In February of 2020, she absolutely killed it in a Felipe Varela velvet gown while receiving the Diplomatic Corps at Madrid's Zarzuela Palace, pairing the a gorgeous floor-length blue gown with an effortless updo. Some of her other looks have included details such as snakeskin pumps, embroidered gowns, and, of course, tiaras. What an icon.
Jetsun Pema, Queen of Bhutan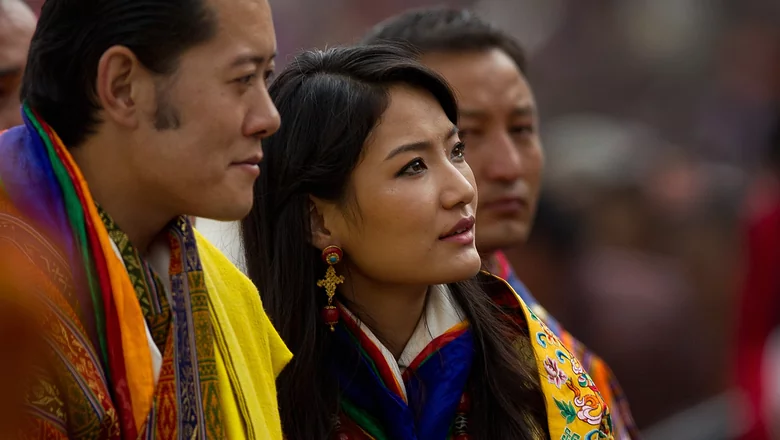 If there is one monarch on this list who really gives others a run for their money, it's Queen Jetsun Pema of Bhutan. Married to King Jigme Khesar Namgyel Wangchuck, Pema is absolutely stunning, and, as noted by Hello! magazine, she has "been praised by royal fans for her striking beauty, turning heads with effortlessly glamorous hair and make-up looks." Pema always looks beautiful — there's seriously no doubt about that — but some of her looks have really stood out from the crowd. 
While on a trip to Japan, Pema looked stunning — she had a touch of black eyeliner on and a nude pink lip and had her hair pulled back. While in Tokyo, she went pretty much makeup-free and still looked absolutely gorgeous. Of course, the queen also looked absolutely stunning on her wedding day, keeping her makeup really, really simple. She pretty much only added a slight smokey eye and styled her hair in loose curls.
We're obsessed with Queen Jetsun — there's no doubt about it. It just might be time to start a petition to have Pema start a blog where she dishes on all of her beauty and fashion secrets.
Princess Margaret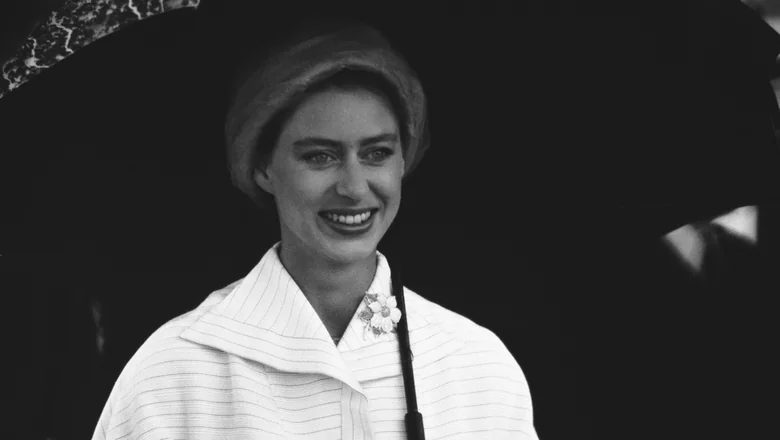 You know that this list wouldn't be complete without Princess Margaret, Queen Elizabeth's rambunctious younger sister. Elizabeth might have gotten more attention when Margaret was still alive, but the second child of King George and the Queen Mother was positively stunning — so much so that she embraced her looks and really just went for it. As noted by HuffPost, Margaret was a bit of a rule-breaker. She reportedly hung out with members of the Beatles at parties, was a heavy drinker, and enjoyed "breakfast in bed and chain-smoking" during her days. 
Throughout all her frivolity, however, she always looked perfect. When she was a kid, Margaret wore what you'd expect a princess to — like flowery dresses — but when she came into her own as a young adult, she took up the latest trends. In the 1950s, women tried to emulate her style, dubbing it "the Margaret Look." By 1953, she appeared on the front cover of Picture Post magazine with the caption "The Princess: Leader of Fashion." Margaret sadly passed away in 2002, but her legacy has stood the test of time.
Catherine of Aragon, Dowager Princess of Wales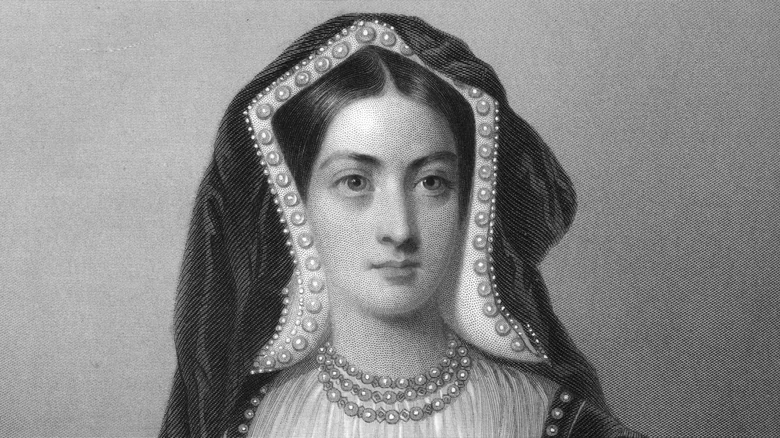 We're going way back into the history books for this. One of the most beautiful monarchs in history was Catherine of Aragon, Dowager Princess of Wales, who lived from 1485 until 1536. She was, unfortunately, married to King Henry VIII (the one with all the wives that you remember from your history class), but she made quite the name for herself. According to PopSugar, her "red-gold hair and blue eyes" were positively breathtaking. 
As noted by Factinate, Catherine's life was not a walk in the park, but she didn't let the challenges she faced get in the way of her goals. "I choose what I believe, and say nothing," she reportedly once wrote in a letter, "for I am not as simple as I may seem." As far as her beauty was concerned, Catherine was striking. Factinate reported that people called her "the most beautiful creature in the world," and a courtier at the time was noted to have said that "there were few women who could compete with the Queen in her prime."
Catherine died at just 50 years old, but her legacy of beauty, grace, and power lives on.